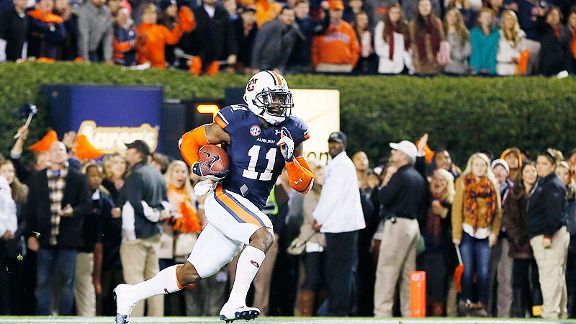 Kevin C. Cox/Getty ImagesChris Davis' return of a missed field goal gave Auburn an unlikely win over Alabama in 2013.
Auburn

,

Florida

,

Oregon State

and

Michigan

… other than having had disappointing seasons in 2014, what do these teams have in common? Each is an underdog Saturday with a chance to play "spoiler" against its archrival in College Football Playoff contention.
According to

ESPN's Football Power Index

(FPI), each of the teams in question has less than a 1-in-3 chance of winning this weekend. But none of these upsets would be impossible, and if you combine the four teams' individual chances to win, it's about 60 percent likely that at least one of these underdogs will shake up the College Football Playoff picture with an upset.
Another thing these teams have in common is that they are used to being underdogs to their rivals, at least in recent years.
Let's see if there have been any upsets or close calls in the recent history of these rivalries that might provide perspective on what could happen Saturday …
Can Auburn upset Alabama again?
According to FPI, Auburn is 31 percent likely to beat

Alabama

, meaning the Tigers have less than a 1-in-3 chance to pull off the upset. This may sound bleak, but Auburn has actually overcome similar odds to win in two of the past four Iron Bowls.
If Auburn were to upset Alabama again, the Tigers' three wins with less than a 1-in-3 chance of winning against the same opponent would be the most such upsets of one team over another in the last five years, according to FPI.
There are many cases of one team with two wins with less than a 1-in-3 chance over the same opponent since 2010, but none with three such upset wins.
Florida looks for repeat of 2012
Florida has been the FPI underdog in its meetings against
Florida State
in each of the last four years and is again with a 27 percent chance to win Saturday.
The Gators will be looking to pull an upset along the lines of what they did in 2012, defeating the Seminoles in Tallahassee despite having about a 1-in-4 chance of doing so, according to FPI.
Michigan looking for more than moral victories
According to FPI, Michigan has only a 12 percent chance to win Saturday afternoon in Columbus against heavily-favored Ohio State.
The Wolverines have been a reasonable underdog against the

Buckeyes

in each of the last few years (except 2011) but have managed to keep it close the last two meetings (when their chances of winning were 41 and 25 percent respectively).
Despite being projected as a mismatch, last year's game came down to Michigan losing by one after a failed go-ahead two-point conversion attempt with 32 seconds left.
And so is Oregon State
It's a similar situation for Oregon State, having a 10 percent chance to upset

Oregon

on Saturday.
The Beavers haven't been able to pull off the upset in any of the recent Civil War battles, with blowouts the norm when facing Chip Kelly's teams.
But with a similar low chance to win last year as it has this year, Oregon State very nearly pulled off the upset, losing by one after a
Marcus Mariota
touchdown pass with 29 seconds left.
Customized cooldry ice hockey jerseys with logos
Victory Eagle Sports Garment Co. ,Ltd is a custom sublimation sportswear manufacturing and exporting company. We manufacture custom ice hockey jersey for 10 years.We could print your personal name and number on jersey anywhere, besides, we also could make your own team logo and sponsor logo on the uniforms.We are professional custom sublimation sportswear maker and we'll give you the original price and high quality.More information please visit:www.vesportswear.com.