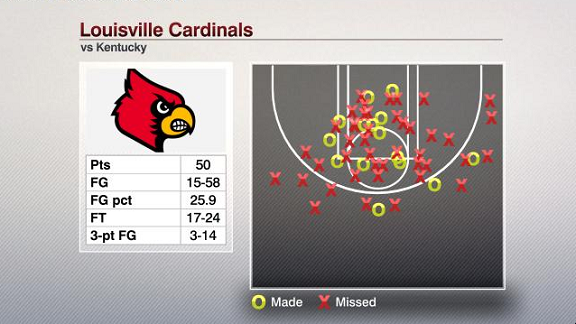 Five stats to know from No. 1

Kentucky

's 58-50 win over No. 4

Louisville

.



1.

Kentucky held Louisville to 25.9 percent shooting from the field. That's the worst single-game field-goal percentage for Louisville in the shot-clock era. The Cardinals were 8-of-24 from inside the paint. Montrezl Harrell was 4-of-7. The rest of the team was 4-of-17.



Louisville was also 2-of-13 on its second-chance opportunities. The Cardinals had averaged 19 second-chance points-per-game in the previous three games.
2.
Louisville had 15 baskets, but managed only one assist. We have 19 seasons worth of game-by-game data on ranked teams. The one assist is the fewest by any ranked team in that 19-season span and the fewest by Louisville in the shot-clock era.
3.
Since joining Kentucky in 2009-10, John Calipari has led the Wildcats to seven wins in eight games against Louisville, including three straight. Calipari is 12-9 against Rick Pitino. This was the 15th meeting of the two teams in which both were ranked in the AP Top 25. Kentucky is 14-1 in those games, 2-0 when both are ranked in the Top 5.
4.
Kentucky did have one streak stopped. The Wildcats had won each of their first 12 games by double figures, the first time they had done that in school history.
5.
According to
BPI
, Kentucky has a 33 percent chance to win out through the end of the regular season. Its toughest remaining game is at Georgia on March 3. The Wildcats have an 83 percent chance to win that one. They are not scheduled to face another ranked team this season.
Make your own logo for hockey jersey
2014 new canada 100% polyester ice hockey jersey
Victory Eagle Sports Garment Co. ,Ltd is a custom sublimation sportswear manufacturing and exporting company. We manufacture custom ice hockey jersey for 10 years.We could print your personal name and number on jersey anywhere, besides, we also could make your own team logo and sponsor logo on the uniforms.We are professional custom sublimation sportswear maker and we'll give you the original price and high quality.